India Hadassah Orphanage
Beit HaTorah has partnered with the ministry of Ravi Babu Kara in India. He is currently providing for 38 orphans and 3 widows, meeting not only their physical needs of food, clothing and shelter, but their spiritual needs also through the teaching of Torah and salvation through Yeshua HaMashiach.
In 2009 Beit HaTorah purchased the land and building known as Hadassah Orphanage, ensuring a continued Messianic Jewish presence in that area.
In 2010 additional adjoining land was purchased for the construction of a new building to better provide for the orphans and widows, both present and future.
We have undertaken this labor of love, fulfilling the mitzvah of supporting the widow and orphans. (James 1:27), (Deut. 27:19), (Isaiah 1:17) These children have become orphans due to various reasons. They have lost their parents due to Tsunami, HIV, auto accidents, T.B., terrorist attacks, house fire, communal attacks, sickness, flood, or financial hardships. They need your support for food, medical bills, education expenses, and building repairs. Our plan for the future is to purchase a permanent roof so we do not have to incur expenses to repair the grass roof each year.
The need is great! In order to make a difference, we rely on the support of generous individuals and businesses that have a heart for supporting orphans and widows. We would be most grateful if you would consider providing a donation to our organization. Your support is critical to their lives and we will gladly keep you updated regarding our progress should you wish.
It take's $80 to sponsor a child each month. This amount includes:
$20 Education: Books, uniforms, Gov fees, etc.
$45 Meals 3 times a day: includes fuel to run generator, firewood to cook, etc.
$10 Maintenance: Repairs, electric, equipment, etc.
$5 Health Care: Medicines, hospital bills, toiletries, etc.
$3,440 per month for all expenses for all children and widows.
You can choose any sponsorship level amount from category breakdown above. You can choose to donate as a one time gift or make a monthly commitment.
Above and beyond their everyday needs, the building they are living in is in disrepair. Our current plan is to replace the existing main bldg with a new bldg. The estimate to build is $49,000 for the 1st floor and $16,000 for the 2nd floor. They will need one floor for just their sleeping quarters. Total is $75,000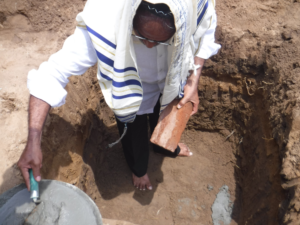 Ravi Babu Kara oversees Hadassah Orphanage and is Honored to lay the cornerstone on the future bldg.
Thank you in advance for your faithful support of the orphans and widows in Hadassah Orphanage. Your compassion enriches their lives in more ways than you'll ever know. We are so grateful for your support.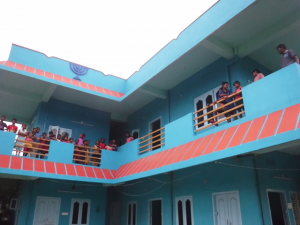 Finished Building at Hadassah Orphanage
All donations are tax deductible (according to the current tax laws).
Please click the button at the bottom of the page to make a donation.